Today marks a month since returning to American soil for Maverick and I. It's been a whirlwind of a month, too. From going back to being a permanent sub, to starting up online classes, and also working too many shifts at the restaurant…it's been hard. I feel like I'm never home. I average 5 hours of sleep a night maybe. Already, I can't tell you the last time I had a day completely job free. It's been so hard. Everyone had been asking what Maverick would do with me working again once we got back. No one stopped to ask what I would do. I'm not handling it well. I worry about him, always. How he's not getting enough exercise now. How he must be so bored. How I never see him. How he doesn't love me anymore like he did when we were in Spain. So yes, it has been hard. And after working at Pinkerton from 6:30-2:30 then working waitressing from 5-11ish the night before, I didn't necessarily want to wake up early and drive the two hours it takes us to get up into the mountains. I just wanted to sleep in. But alas.
Instead, we loaded up the Jeep and took off in the dark, foggy morning. I hadn't done too much prior research on Moosilauke. It had been a mountain my dad had mentioned as an option to hike years ago when we used to camp each summer right by it and yet I had never hiked it. I had, however, seen plenty pictures of the infamous sign right at one of its trailheads. The trailhead we, of course, were taking.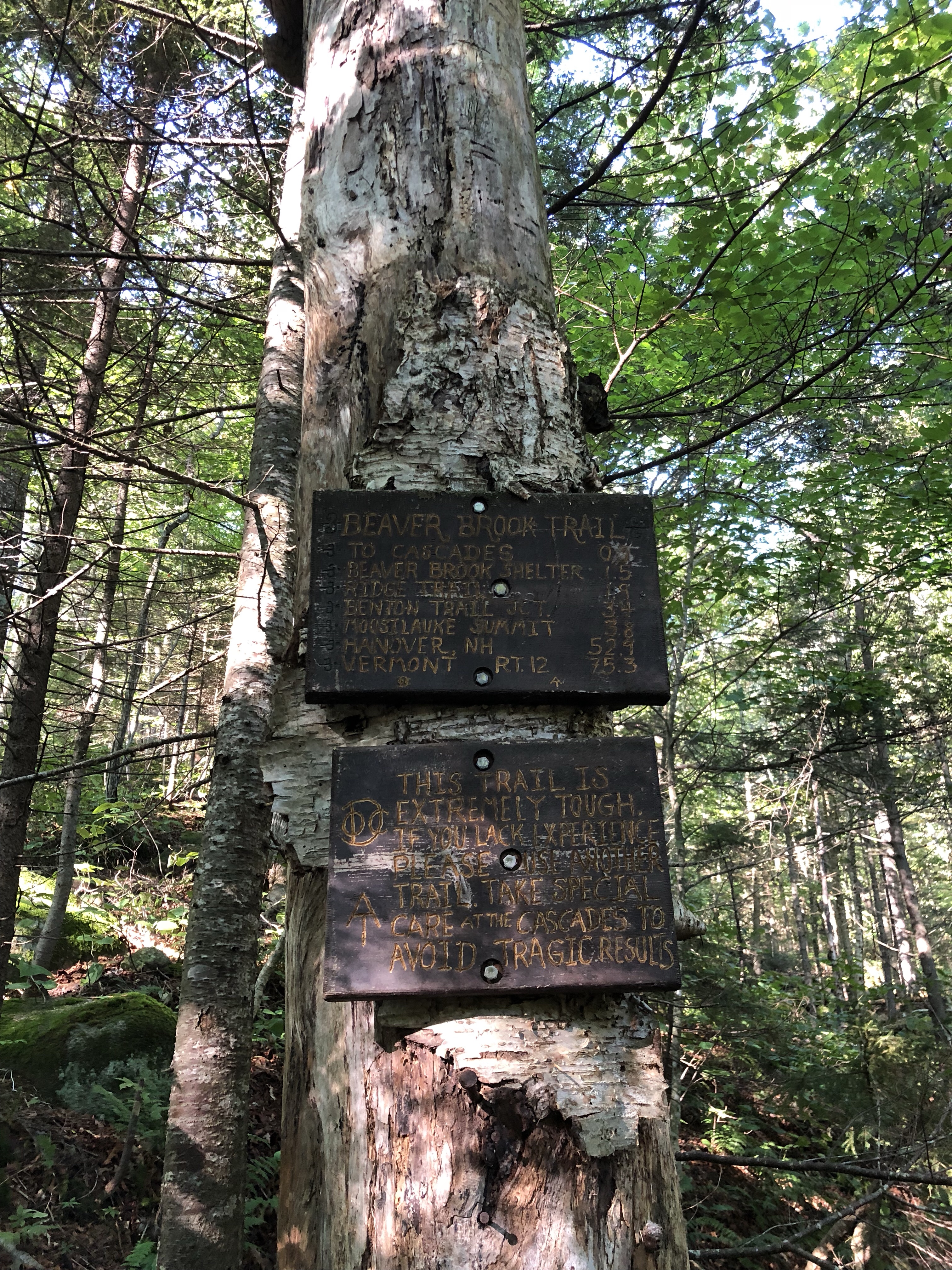 It always made me scoff. I mean really, was that sign necessary?? All trails in the Whites are dangerous. Any of the Prezis could use this sign as well. I maintained this sentiment as we started along Beaver Brook Trail, which is gorgeous by the way, criss crossing over streams three times with glimpses towards what looked like a bog before the climb began. And then I started to realize maybe this sign had a point. Because it was pretty steep. But the kicker was it was a different steep than so many trails. It was slick rocks and everything was damp and odd wooden step things carefully attached to cliffs and metal hand rails. It was clear a lot of work went into this trail. And that first mile and a half was killer. It was abundantly clear Maverick is still getting his White Mountain hiking paws back under him. He is definitely not used to boulders and slippery rock slabs anymore and spent a lot of time slipping or carelessly thinking he could bound ahead like he did on the Camino.
Aside from how tricky it was, it was truly beautiful. The Beaver Brook Cascades are right next to the trail, within view, for almost the entire first mile. Maverick enjoyed being able to splash in the water whenever he wanted. Except, it's so clean he doesn't realize that it's not always shallow water. At one point, he fell right into a deep mountain pool without realizing it was so deep and looked like a panicked, drowned rat before he managed to pull himself back out…all the while I was of course laughing.
We stopped to have a granola bar at the Beaver Brook Shelter, where an AT through hiker had marked out their 1,800 mike marker. Talk about a humbling feeling. Here I am, hiking a whopping 3.8 miles up on this trail, and some people are checking off mile 1,800 on the same soil. Made me think of one day doing that as well.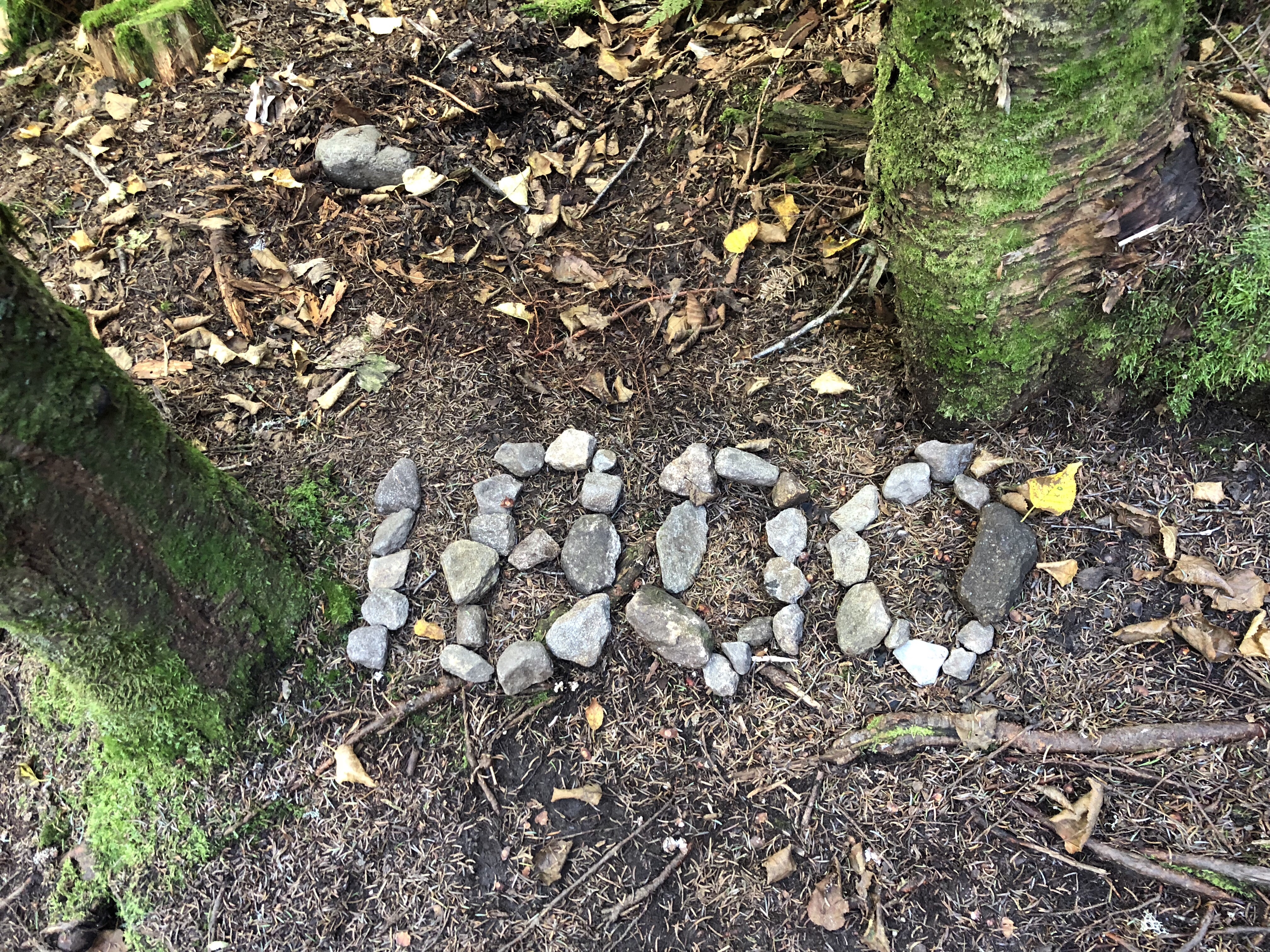 After the shelter, the trail mellowed and we were simply soaking in the joy of being on the trail. At one point, I had to stop and simply breathe. There wasn't much of a view here, just a peek through some trees, and yet I had a feeling I needed to stand here. Stand and take it in. Hear my heartbeat pounding in my ears. Feel the blood pumping to the tips of my fingers. Hear the wind rush through the trees across the valley before hitting our side, brushing my cheeks. Allow nature to swallow me back up like I belonged there. There's something about these mountains that make me feel so alive.
And then, before we knew it, we were breaking out into the alpine zone while I still thought we had another mile to go. Apparently I'm still reveling in the benefits of being in good shape from the Camino. Talk about a beautiful area. Breaking out of tree line to climb the last yards to the summit is truly breathtaking. It's perhaps one of my favorite summits of all time now, not the exact summit point, but the surrounding area. And we couldn't have asked for a better day. We stayed for a while, eating a peanut butter sandwich and watching the layers of mountains stretch across the horizon. The breeze was still warm, but hints of fall are creeping in. Some leaves are starting to begin their change. And then we started down, which was all fun and games until we passed by the shelter again. Those slippery rocks and slabs of stone and steep stretches from before? Going down is so much worse. And being the world's clumsiest person doesn't help with that. Miraculously, we managed to make it with no falls or twisted ankles.
Just as we were heading out of the trailhead parking lot, we came upon a hitch hiker, and despite all I've been told my who life, I stopped to pick him up. He was a hiker, and since we had just stepped off an AT trail, I assumed he was a thruhiker so I picked him up. He was younger, and I learned he had just started his southbound AT a little over a month ago. He was from Texas, and his trail name was "Lost Boy" and we shared stories of the trails, his including ponds and the 100-Mile-Wilderness and mine including empanadas and la Meseta. But there's a bond between people who know what it's like to wake up each day, sling a bag on your back, and just walk til you find a place to stay for the night. I dropped him at a store in Lincoln and left feeling lighter, despite going a bit out of my way.
You never know what you'll find in the mountains. If you're lucky, maybe it's yourself that you find.