RELEASE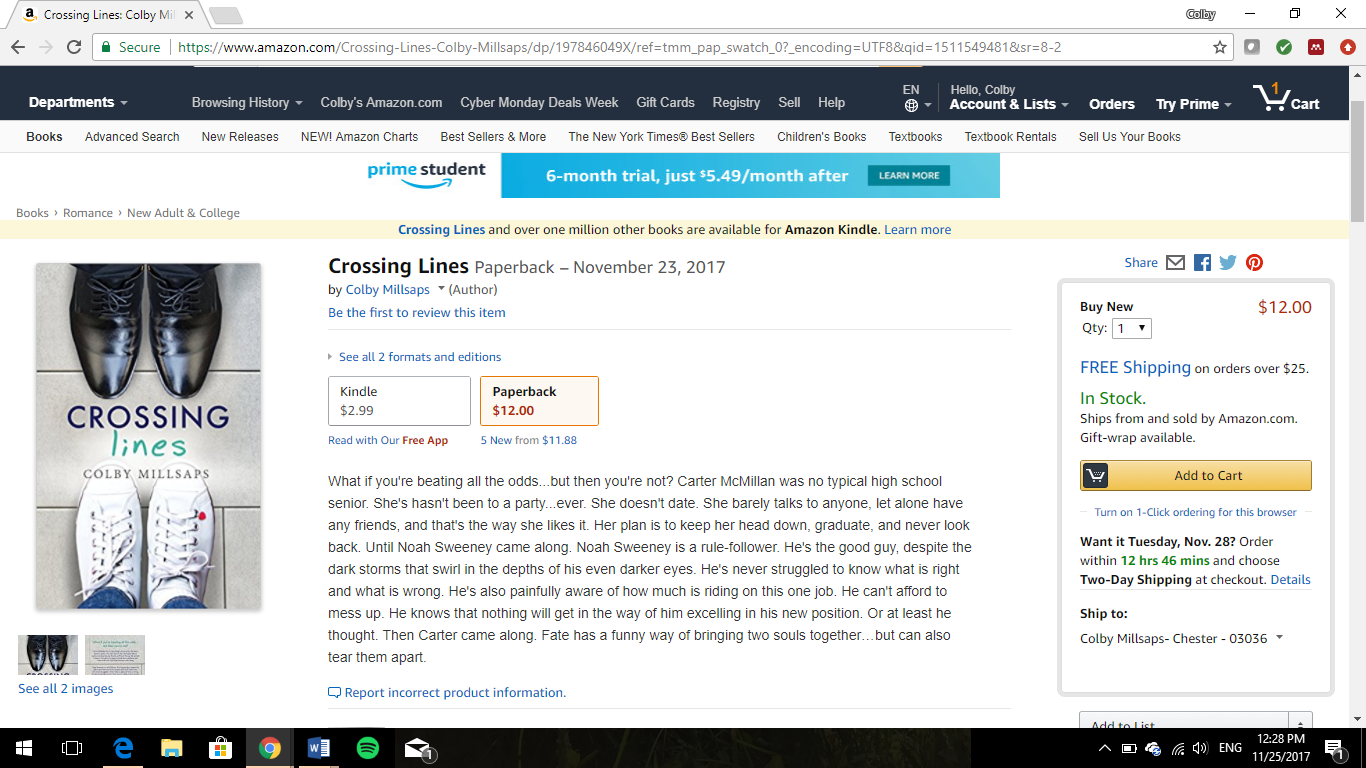 Hey guys!
Wow, this is incredibly exciting. The hard copies of Crossing Lines are live now on Amazon.com, I'll attach the link below and it is also on my home page. Because this was a surprise to be out so early, I have another surprise for you guys! I have moved up the release date for Kindle as well. The new release date will be this Thursday, November 30th!
This whole thing is just insane to me. The support I have received has been completely astounding. I cannot even begin to thank everyone enough for that. When I received my proof of the hard copy, I was in shock I think. To be holding my book in my own hands as an actual book was indescribable. I still am finding it hard to believe that my words are an actual book now. And that people have it in their hands, too. So far, I've received word from two people who have already gotten their own hard copies of Crossing Lines. That makes me both so happy and so nervous if I'm being completely honest. While I have loved all the support and love people have shown for this book finally coming out, it's very nerve-wracking. I'm so worried everyone will hate what I've written, that it won't live up to expectations, that it's not good enough. I suppose every first time author must have these thoughts. Only time will tell what happens.
For now, I'm asking perspective readers to help me out if they feel so inclined by doing two things:
Please tell a friend about Crossing Lines if you read it or buy it. Lend them your copy, tell them about it, let them know what you thought of it. Take a picture of your copy, wherever you may be, and send it to me. Tag me in an Instagram post, I'd love to see it. Let's all pitch in and market this book. I'm a first time, indie author. I have no publicist, no marketing team, I'm relying on myself, and if you're willing to help…you, too. Thank you guys so much!
Please, if you can, leave an honest review of Crossing Lines on Amazon.com after reading. One, I would love nothing more than to hear my readers' honest feedback. And two, the biggest way to become known on Amazon is by having reviews of your product, which in my case is this book. I would appreciate your help so much!
Thank you guys so much in advance for doing any of those things. For buying this book. For supporting this journey. It has been insane, and it just continues to keep getting crazier.
I will be compiling images of Crossing Lines from readers who send them in to me to post both on this site and my Instagram to promote the book. If you'd like to be a part of this marketing approach, feel free to snap a pic of your copy however you like, artsy, showing where you're from, whatever you want and send it in to me at colbymillsaps@outlook.com!
Thank you again guys!
-Colby